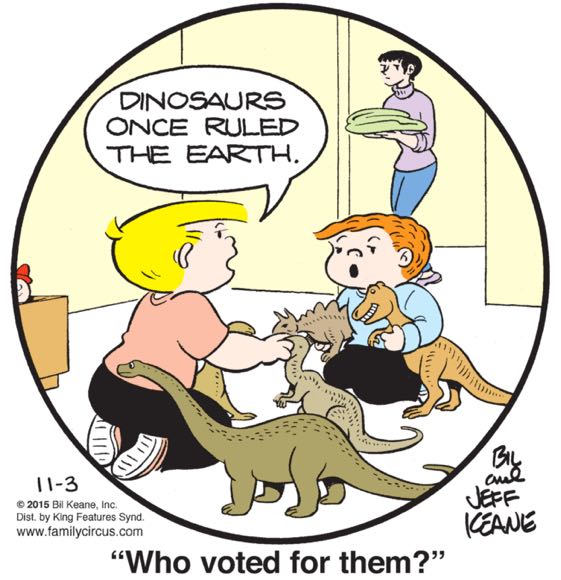 Hello, New Orleans!
We're back with your runoff election voting guide for November 21st, 2015.
Early voting is November 7th-14th, but not November 8th or November 11th. Who said democracy is convenient?
As always, we are against oppression and bullshit, and we are for a reasonable way of life. This guide is a working draft, and we welcome your input in the comments section below. Please see
our guidelines
as to what constitutes "reasonable." Big thanks to local human rights attorney Monique Harden for compiling the candidate demographics.
This election is the runoff for Governor, Lieutenant Governor, and Attorney General. Depending on where you live, you might also be asked to vote for State Senator, State Representative, and/or Orleans Parish School Board member. Check
GeauxVot
e
for the ballot that corresponds to your address.
Vote early and vote often! Or there's always a vote for Nobody. Why vote for Nobody? Because Nobody is the best candidate. Nobody cares. Nobody will keep election promises. Nobody will listen to your concerns. Nobody tells the truth. Nobody will lower your taxes. Nobody will defend your rights. Nobody has all the answers.
Love ya!
Governor
John Bel Edwards - Democrat, White, Male
David Vitter - Republican, White, Male
Good Lord, this is truly not a good situation. On the one hand, we have Vitter, an anti-abortion, pro-business career politician guided by his conservative religious conviction. On the other hand, we have Edwards, an anti-abortion, pro-business career politician guided by his conservative religious conviction.
The benefit to a Governor Vitter is that if we truly believe that the apocalypse is upon us, he will hasten it by killing the environment even faster than we already are, with his hands in the diapers of oil&gas.
Edwards pays lip service to improving higher education and pay equity for women, so that's good.
VOTE: Edwards, just because Vitter is actually crazy enough to kill us all
Lieutenant Governor
Melvin "Kip" Holden - Democrat, Black, Male
"Billy" Nungesser - Republican, White, Male

Of the bunch last time, we liked Holden the best (disliked him the least?). To review: He may or may not have sexually harassed his employee; he thinks that oil&gas are just a part of state economic development, not the whole thing; and he's done quite a bit to invest in the arts in Baton Rouge.

The Pat Buchanan-booster Nungesser is likable in the avuncular, Plaquemines-punchy kind of way, and he has stood up for the defense of coastal Louisiana throughout his political career, at least on camera. His record as Plaquemines Parish president is warped towards conservative fiscal and social values. He has also been sued for sexual harassment. (Maybe that's a campaign requirement these days?) Pretty much everyone who's endorsing Vitter is also endorsing Nungesser.

VOTE: Holden
Attorney General
James "Buddy" Caldwell - Republican, White, Male
"Jeff" Landry - Republican, White, Male
The tricky part about this race is that our favorite from the last go-round, Geri Baloney, endorsed Jeff Landry in the runoff. I'd say to trust her judgment but hang on, this guy is like NRA Gangbusters, fresh from the Tea Party Caucus. The dude literally kicked the underdog during his career as a business lawyer, when - in his words - he "represented numerous job creators and business owners" [read: oil&gas corporations] "against frivolous lawsuits" [read: the environment]. In 2012, he lobbied against an LGBT studies program at the University of Louisiana, Lafayette, saying it was "an unnecessary use of taxpayer money." He thinks people don't serve enough time in jail for criminal activity, and wants more surveillance for those on probation and parole. Get a grip, wingnut.
Then there's Wingnut #2, Elvis-impersonating incumbent Buddy Caldwell, who not only spent public funds on golfing equipment and a vacation to Montana, but actively refused to prosecute his own embezzler family members. Before that, he was a district attorney who boasted about keeping non-violent offenders locked up. This guy has engaged in seriously dubious ethics and flouted the public interest mandate of his position, only to seek election to his third frickin term.
VOTE: Ugh, it breaks my heart to endorse Caldwell. But as my neighbor Creole Sassy says, "We have to hold our nose for him because otherwise, who knows."
State Senator, 7th District
Jeffrey "Jeff" Arnold - Democrat, White, Male
Troy Carter - Democrat, Black, Male

Troy Carter is a former City Councilmember and State Representative endorsed by Mitch Landrieu. He supports Medicaid expansion, and is against further state budget cuts to higher education and healthcare. His nephew just won the election for the State Rep position that Troy Carter held in the 90s, and that Jeff Arnold is vacating due to term limits.

Confused, much? Yeah, these two are career politicians from political families.

Current State Rep and NBC Bank Vice President Jeff Arnold has publicly called for the secession of Algiers from the city of New Orleans. He sees crime as a major problem in New Orleans, and wants to "examine" public defender services as a dimension of criminal justice. Arnold is the son of Algiers' assessor.

VOTE: Honestly, it's a toss-up. Nobody impresses us here, but we can't in good conscience tell you to vote for a banker. Troy Carter it is.
State Representative. 99th District
Ray Crawford - Democrat, Black, Male
"Jimmy" Harris - Democrat, Black, Male

A Ray Crawford canvasser accosted me with great enthusiasm at the Mirliton Festival this past weekend, and told me that "Ray's a pastor, so you know he's gonna look out for you." Being Jewish myself, I wasn't so convinced. But Crawford's said some good stuff about Medicaid expansion, as well as the rights of teachers and parents to make decisions for public education. His candidacy was originally challenged in the Louisiana Supreme Court on the grounds of residency requirements, but it was allowed to proceed when it was found that the court documents misnamed him as "Raymond," instead of "Ray." Ah, the mighty wheels of justice.

Former Attorney General staffer Jimmy Harris' campaigning has focused largely on incentivizing business development in this district, which includes parts of New Orleans East and the 9th Ward. He used to be part of Congressman Cedric Richmond's machinery, and we usually like us some Cedric Richmond.

VOTE: Harris, but Crawford probably wouldn't be terrible either.
State Representative, 100th District
John Bagneris - Democrat, Black, Male
Alicia Plummer Clivens - Democrat, Black, Female
We like Alicia Plummer Clivens' consistently strong advocacy for public education and accessible healthcare in her community. Endorsed by teachers' unions and the AFL-CIO, she has confronted the Landrieu administration on New Orleans East's stagnant post-Katrina recovery. She is also endorsed by an outfit known as the Independent Women's Organization, which promotes female Democratic Party candidates. The NRA gave her a 0% rating, which is probably good for the children of America.
Bagneris is from a political family with ties to the Morials. He shares Clivens' goal to attract business growth to the East, as well as her 0% NRA approval rating. He might be fine as a State Rep, but we're trying to undermine political dynasties here.
VOTE: We're gonna go with Alicia Clivens on this one.
State Representative, 103rd District
"Ray" Garofalo - Republican, White, Male
Casey Hunnicutt - Democrat, White, Male
Ultra-conservative current State Rep Garofalo was one of two legislators to support something called the "Marriage and Conscience Act," which, as you can imagine, was not designed with any kind of recognizable civil rights orientation except towards businesses that want to discriminate against LGBTQ employees and still reap the benefits of state tax incentives. So you could say he's really gone out on a limb for his rightwing gay-hating constituency.
Casey Hunnicutt was elected to St. Bernard Parish Council at age 24, and has been endorsed by the AFL-CIO. It's hard to find more information about him, but he's probably not worse than Ray Garofalo.
VOTE: Casey Hunnicutt

Orleans Parish School Board, 1st District
Keith Barney - Democrat, Black, Male
John Brown - Democrat, Black, Male
Keith Barney was a special education teacher before joining the charter board at Mary Coghill, a Gentilly school under the purview of the state-run Recovery School District. He voted not to return the school to the locally controlled OPSB last year, citing poor leadership and "bad behavior."
Former principal John Brown was somewhat contentiously appointed to the OPSB back in March, after former member Ira Thomas was indicted for bribery. At the time, Brown was asked to pledge not to run for the position this November, but whoops - he forgot about that. So you can see the ethical precedent on this Board is, er, let's say "not strong." But Brown has contended that success in public education occurs "where community partnerships are reciprocal and demand coordination, collaboration and mutual investment...[The Orleans Parish school system should be] providing quality learning environments that promote academic excellence and engaging the family and community in the support of student achievement." Stand for Children endorses his candidacy.
VOTE: John Brown